African Violets in Blue Bowl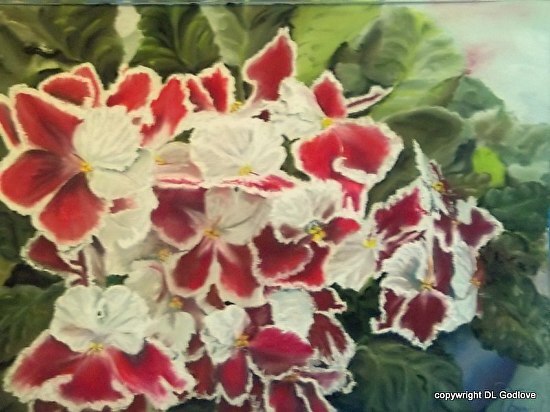 African Violets in Blue Bowl will be on exhibition and for sale at the Gallery Shop, in Oakland, by the Garrett County Arts Council. A lovely town. Excellent restaurants. The best hamburger in four counties is at "Englanders" just across the street from the Arts Council. Well worth the trip for the views and of course the shopping, and excellent artwork by the talents of our artisans.
Use the "Buy it now Button". 100% money back guarantee, less shipping if returned within 2 weeks of delivery.
If you have any questions or concerns, please contact me at www.donnagodlove@yahoo.com .
Mountain Heather Studio has a policy of money back guarantee, less shipping, if not satisfied, if returned within two weeks. Please notify us if there is any problems.
Domaines d'Dandelion Du Dames Plein Air Group: We need to think about painting at the Lodge at one of the parks for a winter outing. What say you all? We can paint from the huge windows.
A You Tube video of the interview at The Fairfax. http://youtu.be/bqRSWqCI4Fg.
Come and visit the Garrett County Arts Council: They have a wonderful Gallery and Gift Shoppe. Some of the best artists in the area are represented there. You will find a wide variety of mediums that will be sure to please. "Backyard Grampa" there for display and sale. If you would like to see it in person, please visit. 206 East Alder Street, Oakland, Maryland, 21550. (301)334-6580.
Visit me also on Twitter: http://twitter.com/donnagodlove .
Or on Facebook: www.facebook.com/pages/Donna-Godlove-at-Mountain-Heather-Studio/546115205411611
Notice: I have had several requests for miniatures. I sold one (and could have sold it twice) at the Bedford "Arts on the Square". I now have several "Apple" miniatures, as requested. (3x5) I will have smaller later in the year. If you are interested, please contact me. www.donnagodlove@yahoo.com I will send pictures for you to choose from. One of which is a miniature version of "Backyard Grampa", in oil pastel!
Pastels: I have been asked by a few patrons and online viewers to discuss the type of pastels I use. That is a hard question. I use many different brands and many hardness varieties. It depends on the point in the piece that I am currently at. If I am using an underpainting, I'll use the hardest pastel stick I own. Currently that is Nu Pastels or Richeson Hard. They both go on smooth and take the alcohol wash very nicely. Richeson Hard works well with a water base underpainting as well. I've never tried water with NuPastel. It gives the sanded paper a "painterly" look. The water based underpainting does not always give me the surface I need for what I intend. Again it all depends on the outcome you are looking for. The body of the pieces is "painted with pastels that are of medium to soft hardness quality. Rembrandt early, moving to Terry Ludwigs, Richeson hand made soft, Sennelier, Great American. The closer to the finish, the softer pastel needed. If there is any fine detail to place in the piece, I'll be using Carbothello's pastel pencils. I hope this helps. If there is any other questions, please feel free to let me know.
Maryland State Art Council:
Please join me at the Maryland State Art Council as well. Check out my profile and the profile of many, many artists living in the great state of Maryland. Get valuable information for the Arts as well. A one stop point for artists to find information, how to's, grants, calendar of events, and so much more. www.msac.org.
~~~~~~~~~~~~~~~
If you are ever in the area and would like to stop and say hello, Please contact me beforehand, via email and we will set up a visit at the home studio.
~~~~~~~~~~~~~~~
Take a slow walk through my portfolio. You will see that there are a few of contracted pet portraits available to view. I love painting landscapes, however I also enjoy the occaisional pet portrait. If you would like to discuss a portrait of your pet please contact me at the email address below. I also accept commission work on the subject of your choosing.
If you would like to have a newsletter sent out periodically with new works, please contact me and put newsletter in the subject line. If you enjoy what you see, or if you don't, let me know. I enjoy all types of critiques.
Please feel free to contact me at any time if you have questions about any of the pieces that you see on this site.
240-522-3100